Its bizarre how the most important people on movie industry cant get very popular,i know you are confused right now.I dont mean Actors ,Actress,Directors or Producers. I am a good fun of movies ,i would watch plenty of them in a day ,especially on a Sunday ,many people watch movies to the end but many never pay attention on the Credits..Credits ..credits..i will be bored and not satisfied if i don't get to see the credits.
For those that had a chance to watch movies like Immortals (2011) ,Bram Stoker's Dracula(1992),Mirror Mirror(2012),The Fall (2006) and read the credits very well am sure you came across this name Eiko Ishioka (my her soul rest in peace) she is among the strongest and creative women i have always admired .Couple of times i ask my lads if they know this powerful name in the Art industry but non had the idea.I found it funny how people who spice up movies don't get very popular like the actors.


Eiko Ishioka
Tokyo – January 21, 2012, Tokyo)
was an Oscar-winning , July 12, 1938,
costume designer
,
known for her work in stage, screen, advertising, and print media, and has been called "Japan's leading art director and graphic designer."
Ishioka's work is included in the permanent collection of museums throughout the world, including the
Museum of Modern Art
in New York. In 1999 she designed costumes for
Richard Wagner
's
Der Ring des Nibelungen
at the
Dutch Opera
. She designed costumes for
Cirque du Soleil
:
Varekai
, which premiered in 2002, as well as
Julie Taymor
's Broadway musical
Spider-Man: Turn Off the Dark
, which premiered in 2011.
She also directed the
music video
for
Björk
's "
Cocoon
" in 2002, and designed costumes for the "Hurricane" tour of singer
Grace Jones
in 2009.
Ishioka was the costume designer for the
Beijing-2008
Olympics.
In addition to her Oscar-winning work on
Bram Stoker's Dracula
, Ishioka has designed costumes for all of
Tarsem Singh
's films, including
The Cell
.
Eiko was discovered by
Tsuji Masuda
who created
Parco
Ikebukuro
from the ailing
Marubutsu
Department Store. When Parco did well and expanded to a
Shibuya
location in 1973, Eiko designed Parco Shibuya's first 15 second commercial for the grand opening with "a tall, thin black woman, dressed in a black bikini, dancing with a very small man in a Santa Claus outfit." She became deeply involved in Parco's image. Her last Parco campaign involved
Faye Dunaway
as "face of Parco" wearing black, on a black chair against a black wall, and peeling and eating an egg in one minute as "a film for Parco."
Filmography
Costumes: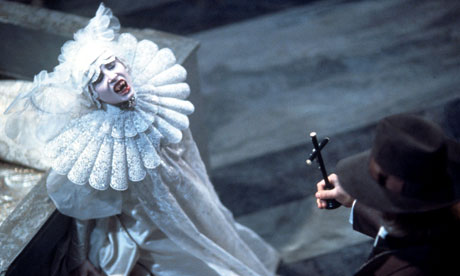 Awards:
Death:
Oscar-winning costume designer Eiko Ishioka, whose designs were worn by Broadway actors and movie stars, has died of pancreatic cancer, aged 73.
"Her work will continue to touch audiences for years to come."
#Issah QM Msongo.