Manny Pacquiao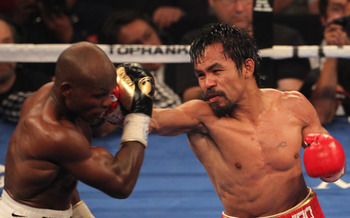 Manny Pacquiao grew up in the slums of the Philippines, a true underdog story if ever, there was one. One of five other siblings, poverty was the norm for his family. Like Jack Johnson, Manny also moved away from his home at an early age.

He was only 14 when he moved to Manila, for a while living on the streets until he began boxing. Before turning 16, Manny would have an amateur record of 64 wins and 4 losses. By the time he began training for his bout with Antonio Barrera, Freddie Roach was already on the job molding Manny, who would go on to become the pound-for-pound champion of the world.

Manny stunned boxing fans handing Barrera a technical knockout in the 11th round, something no one had ever done. Present day, Manny has accomplished what no other fighter in the history of the sport has, eight belts in eight separate divisions.

And as of 2010, he's also a congressman in district of Sarangani, in the Philippines. Apart from these accomplishments, Manny has does things in the ring I've never seen anyone else in the sport even attempt much less put into action, circling left or right throwing combinations of up to four even seven punches with one step. Not bad for a kid from the slums, huh?