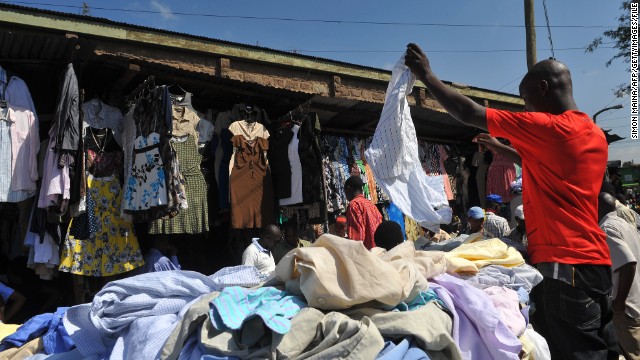 "mia nane...mia nane..mia tano...mia tano" the bellow came from a mid aged guy who was entirely wet from his sweat ,caring less and trying to market his stuff,anyone could easily see him since he was standing on a metallic table his legs were covered with colorful stacks of unsorted clothes,he then lifts a long sleeved gray t-shirt and in seconds is on a jeans waving it and giving it a price..

That's how good it can get at Karume market,one thing i like about mitumba is i can own a designers cloths at a very cheaper price.Mitumba are classified in classes you can have the best quality from mtumba and yet you can get a very poor quality.

As i move to other wooden stalls ,i see a big women i think she was on her 60's and obesity was all one could say of her body ,i could tell the age because i saw her Kilimanjaro grey hair style,"beba beba...mia tano...beba beba mia tano" i could see her dancing while she calls upon customers,her bald voice made me think she hadn't had water for sometime..

A big percent of Tanzanians buy the second hand clothes,the clothes are imported from abroad especially the Asian countries.Its said about 90 % of people living in Tanzania buy second hand clothes ,actually people prefer them more.

Effects
As much as we like mitumba ,they have severe effects to our home country economy.My grandad used to give me stories about the industry he worked for when he was a young man ,people who worked at textiles back then were so treasured in Tanzania and part of our good economy was much contributed by the textiles industries,each day workers decrease ,my grandad says back then there were about 80,000 Tanzanians working in textile companies but it has now dropped to almost non.
Lack of employment being one of the effects,many textile industries are now shut down due to Mitumba.

"lakini" why lie the second hand clothes have also helped in some sort of way,My friend Gilbert kituli says proudly he can now wear a second hand Louis V t-shirt just like lil wayne.

Flashed my eyes to the left saw a group of ladies trying to bargain and hustle for the braziers and panties while the vendor blithely singing "Pata wee..makufuli...solex za kila rangi..pata weee bwatuli..sidiria zakila rangi"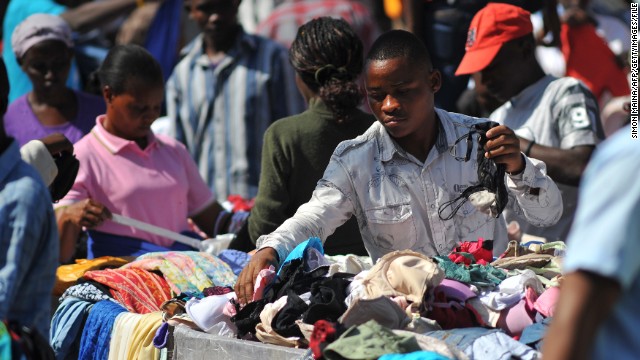 Photographs courtesy: Simon Maina